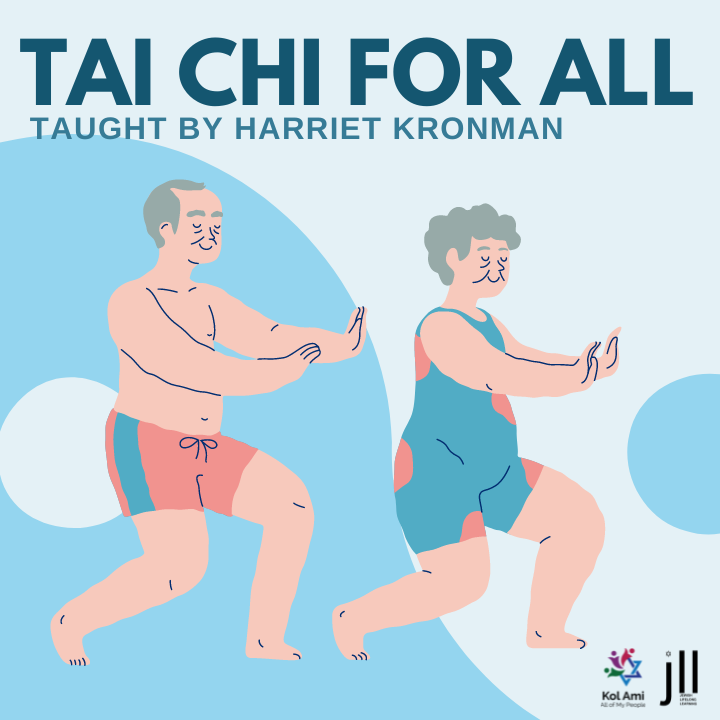 Tai Chi Basics
Upcoming Sessions
1. Tuesday, October 11, 2022
•
16 Tishrei 5783
9:00 AM - 10:30 AM
Sy Juster Social Hall
2. Tuesday, October 25, 2022
•
30 Tishrei 5783
9:00 AM - 10:30 AM
Sy Juster Social Hall
3. Tuesday, November 1, 2022
•
7 Cheshvan 5783
9:00 AM - 10:30 AM
Sy Juster Social Hall
4. Tuesday, November 8, 2022
•
14 Cheshvan 5783
9:00 AM - 10:30 AM
Sy Juster Social Hall
5. Tuesday, November 15, 2022
•
21 Cheshvan 5783
9:00 AM - 10:30 AM
Sy Juster Social Hall
This course is an introduction to the Yang form of Tai Chi, which emphasizes energy flow, breath, and balance.
And everyone can practice and everyone will benefit through their Tai Chi practice.
We will learn one or two short forms each week, working towards the flowing and graceful long form you see practiced on the lawns in China.
This is easy and slow—not "exercise." Tai Chi is a moving meditation.
Harriet has studied Tai Chi for ten years, the last six years in a weekly private class with Master George Bolger, who retired in Tucson after studying with and teaching at Master Waysun Liao's Tai Chi School in Chicago for over 40 years.
Classes will be offered Tuesday mornings, 9:00 am – 10:30 am at Kol Ami
Introductory Class – 4 weeks – August 30 – September 20 –
Try it to see if Tai Chi is for you!
Basic I class – 5 weeks – October 11- November 15
(no pre-requisite)
Basic II class – 6 weeks – November 22-Dec 26
(Basic I is a requisite)
Classes will be in person and on Zoom. They will be recorded, so if you need to miss an in person class, you will have access to the Zoom recording.
Class size is limited, so register early!
Taught by Harriet Kronman.
Please text or call me if you have any questions at 520-205-1658 –
---
Register
This form is not active.
Share Print Save To My Calendar
Fri, September 30 2022
5 Tishrei 5783
Visit
225 N. Country Club Road
Tucson, AZ 85716
Fri, September 30 2022 5 Tishrei 5783